Festival
Eros At Arms 2022 - Attention Void Dancers!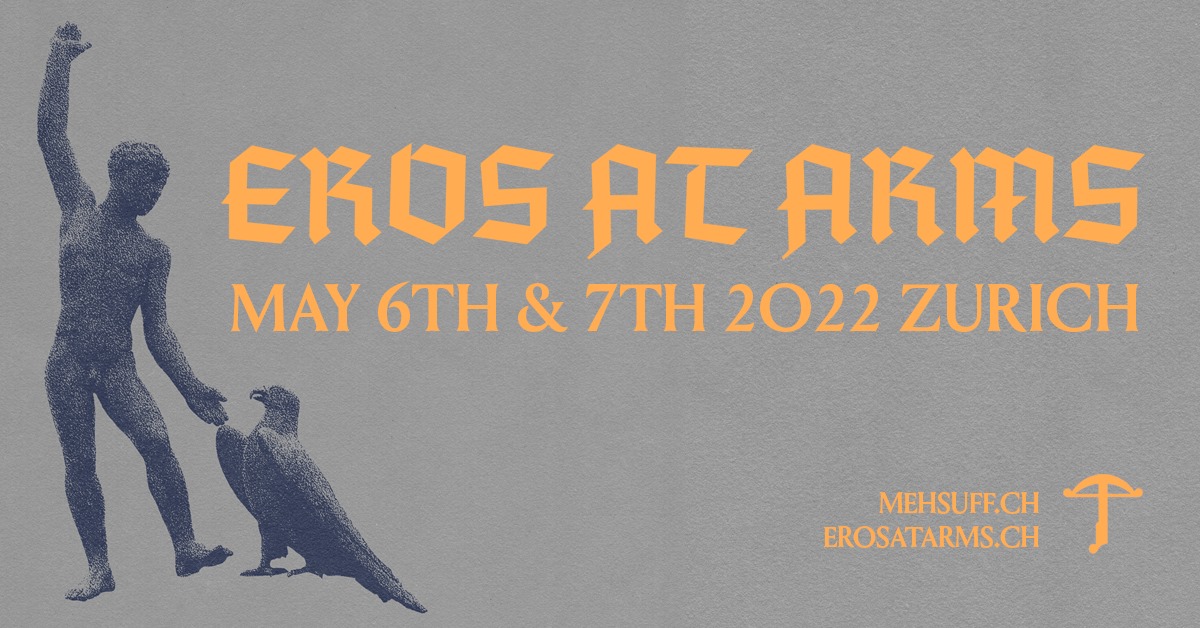 In zwei Wochen - also  am 6. Mai 2022 - ist es soweit, das Eros At Arms 2022 öffnet im Dynamo seine Tore für ein Lineup der Spitzenklasse. Einheimische Top-Acts wie die beiden Headliner Triumph Of Death und Bølzer, lokale Newcommern wie Load und Megaton Sword sowie zig weiteren nationale und internationalen Geheimtipps und Szenegrössen lassen uns die in den letzten zwei Jahren entstandene Konzert-Lücke im nu vergessen. Der Nachholbedarf ist gross, sowohl bei Fans als auch bei den Bands. Sichert euch eure Tickets also unbedingt via Eventfrog.
Die Organisatoren Bølzer und das Meh Suff Team kündigen das Festival an mit folgenden Worten:
It is with great pleasure that we may finally announce the premiere edition of Eros At Arms! As the humble curators of this fledgling event, it is our honour and intention to present you with a consistently diverse and exciting lineup of artists that rock our world, with the hope that you too may share our enthusiasm! 
Bring it on!!!

Lineup Freitag:
BØLZER
Obliteration
Molassess
Throane
Trepaneringsritualen
Deathcult
Suffering Hour
Reaper
Haunter
Load
Megaton Sword
Eggs Of Gomorrh
Verset Zero
DJ Nuctemeron

Lineup Samstag:
HELLHAMMER performed by Tom Gabriel Warrior's TRIUMPH OF DEATH
Dead Congregation
Schammasch
Nektromantheon
Dool
Herder
Obnoxious Youth
Incarceration
Drowned
Valborg
S S S S
Antiversum
Dakhma
White Mantis
DJ's Invictus and Nemtheanga
Tickets gibts bei Ticketfrog unter https://eventfrog.ch/de/p/festivals/pop-rock/eros-at-arms-2022-6851856096333073184.html
Auf Facebook findet ihr den Event hier: https://www.facebook.com/events/360634328829936/